If you're visiting Giethoorn for one day and you're coming from Amsterdam, here's a simple guide to help you and make your experience in the village a great one.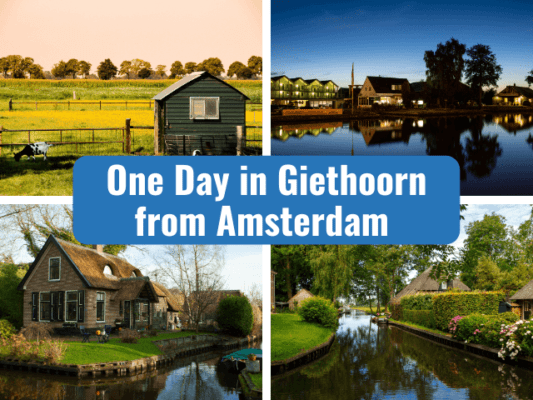 Train
From Centraal Station, take a train to Steenwijk. This will take around 90 minutes. When you get to Steenwijk, take the bus no.70. The trip will take about 30 minutes. Go down at the Giethoorn village bus stop. 
Car
Amsterdam is 120 km away from Giethoorn. Ideally, it will take you one and a half hour to reach Giethoorn by car. It's best to leave early so you can avoid traffic jams. 
What To Know About Giethoorn
It's not true that there are literally no roads in the village because there are! However, when you reach the old part of the village, that's where you'll notice the lack of roads, except for bike lanes. This is why most of the transportation in the village is done via water. The village has over 180 bridges that connect the houses and streets. 
Read more here about the things you should know about Giethoorn. 
There are tour packages available if you're coming from Amsterdam to Giethoorn. Here you can see an overview of the tour packages. 
What To Do In Giethoorn
The first thing you should do when you get to the village is to rent a boat and go on a tour around Giethoorn. Explore the canals, take photos, and see the thatched-roof farmhouses. 
If you leave Amsterdam early, then you will find several restaurants and cafes where you can eat and have high tea in the village. 
Check out the restaurants here. 
It's likely you have more time to spare, so why don't you do some activities? Perhaps, you can visit the museums? If you're feeling a bit adventurous, you can check out these escape rooms. 
Enjoy your day in Giethoorn! 
Do you want to know more about The Netherlands? Browse our other topics here at Ask The Dutch Guy!