Looking for a luxurious holiday in Giethoorn? Waterresort Bodelaeke Giethoorn is the place for you. Enjoy luxurious detached holiday villas on top of crystal clear water while you take in magnificent views.
Set on a private lake in the village, the resort is perfect for individuals who want to splurge a little bit more to experience Giethoorn differently. The area has an open waterway connected to the Beulakerwijde, and it's set in the middle of the Weerribben-Wieden National Park. 
Each villa features three bedrooms with a living area and a spacious terrace. Furthermore, it has a fully-equipped kitchen while the private bathroom comes with a large bath or a shower. There are bigger villas in the area that will fit six to eight people. 
Aside from the luxurious vibe in here, there are plenty of activities you can enjoy while you're here. You can ride a bike, catch a fish, or sail on a boat.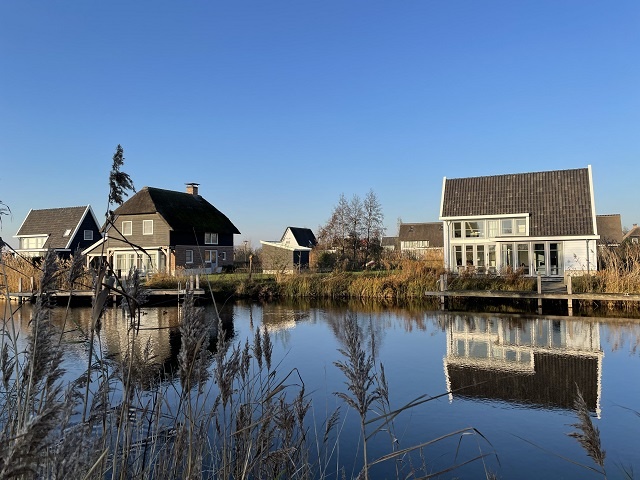 History Of Bodelaeke
Initially, the village is located where the Beulakerwijde, which is the biggest Gieterse lake. It was in the 15th century when it was established as a settlement for peat workers. The name means House (Bode) on the water (Laeke). The area was hit by a huge storm in the 1775, which urged peatworkers to extract more peat to meet the growing need of people. 
The history was the source of inspiration for the designers of the resort. The mix of houses show ecological architecture made from traditional building materials. This is truly an iconic project for the village. 
The resort's main building is located at the entrance where you can access the restaurant. Here you can enjoy the large sun terrace that offers panoramic views of the private lake with colorful boathouses. 
Aside from renting a villa in the resort, you can also invest in a property here, especially if you plan to spend several holidays per year on this side of the country. 
Book a villa here at Bodelaeke Giethoorn. 
Ask the Dutch Guy is your go-to place for anything Netherlands! Browse our topic today.