If you plan to spend a holiday in Giethoorn and you want to stay in a more intimate space, then these bed and breakfasts in the village are a great choice. These are the B&Bs in the area, while there are also nearby B&Bs you can stay in, just in case they're fully booked.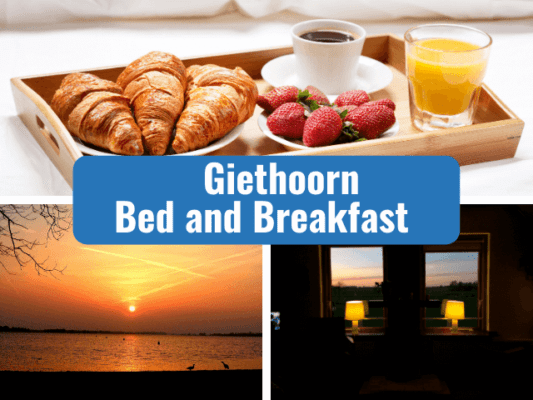 B&B Heida
Zuiderpad 18, 8355 CA
Enjoy big and comfortable rooms when you stay at this bed and breakfast. In the morning, you will be served delicious breakfast with a few selections of breads, delicious coffee, cheese and yogurt and many more. There are four double rooms in the B&B with one private shower and toilet. 
B&B Tulden Farmhouse
Beulakerweg 65, 8355 AC
The bed and breakfast has two comfortable rooms located in the front house of the farm. The rooms have a private entrance and a whole lot of privacy. It is located in the non-tourist-y part of the village where you can see the beautiful hiking trails and beautiful farms. Aside from accommodation, they also offer boat trips and bike rentals. 
B&B De Galeriet Giethoorn
Binnenpad 66, 8355 BV
The bed and breakfast is set in an old Dutch farmhouse with two-person bedroom on the ground floor. It can accommodate big families and groups as well as there is a loft with five bedsteads in traditional Dutch style. 
There are also extra single beds available to accommodate an even larger group. It overlooks a beautiful garden that will make you feel right at home. Additionally, it is near a lot of nice restaurants, shops, and museums. 
Get to know more information about Giethoorn and other parts of The Netherlands here at Ask The Dutch Guy! Do you have any questions or comments? Leave them in the comment section below.