There are a lot of ways to explore Giethoorn. The beautiful village of The Netherlands is something you should take in because of its spectacular beauty that you won't see anywhere else. So, while you're here, it's best to consider a tour package to help you make the most out of your visit. Below are some of the available tour packages in Giethoorn.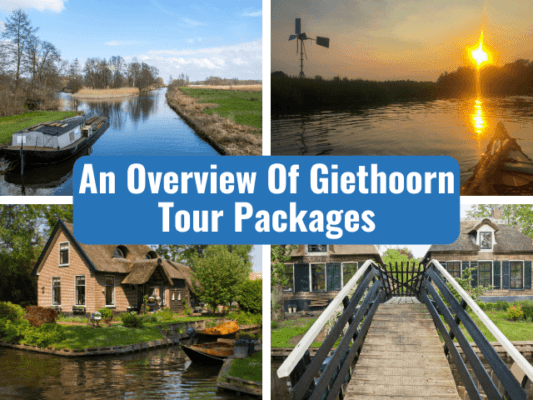 Explore The Village With The Whole Family
If you're coming to the village with your family, here is a great package you can enjoy. You can do this whether in the morning, noon, afternoon, or evening. 
Here is a sample of a program: 
10:00 am – Reception
Enjoy coffee or tea. 
10:30 am – 2-hour whisper boat ride
You can also go on a 2-hour canoe trip through the village and its surroundings if you don't want to ride the whisper boat. 
12:30 pm – Build your own burger
After the boat ride, it's time to sit down and have some own burgers. The fun part? You get to build your own burger and choose a side dish. 
If you don't want burgers, you can opt for a barbecue or buffet. 
14:00 – Village Tour
You can explore the village on your own. There are also plenty of activities you can do, such as play attic with ball put, or you can also check out the Mega Tower of Pisa that is based on the village. 
Interested? You can book the tour here.
Goed van Start 
This is a guided tour package that you're going to love if you want to get to know more about the village. The tour goes like this: 
10:30 am – Welcome
Here you can enjoy coffee or tea and an apple pastry with the other guests you will be with for the tour. 
11:00 am – 1-hour boat cruise
Here you will be with an experienced skipper who will tell you everything you need to know about the village. 
12:30 pm – Lunch
Have an awesome lunch that consists of an egg sandwich with ham, cheese sandwich, croquette and a scoop of salad. You will also be served a bowl of soup. 
13:30 – Village viewing
After lunch, you can explore the village on foot at your own pace! 
Sailing & Cycling 
If you want to have a more active day in Giethoorn, then this is the kind of tour for you. The tour goes like this: 
11:00 am – Reception
Have tea with coffee or tea and speculaas. 
11:45 am – Boat cruise
Hop on a tour boat and enjoy a relaxing cruise. Aside from sailing through the village, you will also sail through the nature reserve "de Wieden." This is a guided tour as well. 
12:45 pm – Bike with picnic
Your bike is ready. Cycle your way around the village and when you're hungry, you can pick a spot where you can have your picnic. The picnic basket has everything you need; from the ham and cheese sandwich, drink, fruit, and a candy bar. 
17:00 – 3-course dinner
After your bike ride and your picnic, it's time have a 3-course dinner. A delicious dinner awaits you that will make your day in the village truly satisfying. 
High Tea
If you want to relax in Giethoorn, then this is exactly the tour for you. Here's how the tour goes: 
12:30 pm – Reception
Here you will be welcomed with coffee or tea with speculaas. 
13:00 – One-hour cruise
You will be taken to a one-hour cruise with an expert skipper
14:00 – High tea
By this time, you can enjoy high tea that consists of various English blends. The tea is paired with muffins, scones, savory sandwiches, cake, quiches, and many more. 
Do you have a specific tour in mind? Let us know because we might be able to arrange something for you!