Summer in Amsterdam is one of the best holiday experiences you can afford yourself during the pandemic. COVID-19 has halted so many human activities all over the world and affected tourism in a big way.
But there's one thing this health crisis cannot do – stop you from having fun in this most exciting season of the year. Learn how to enjoy yourself in this fantastic Dutch city despite the restrictions.
Discover reasons to visit Amsterdam as you learn five tips to have the best summer experience despite COVID restrictions. But first, let's take a closer look at summer in Amsterdam and the current Covid-19 restrictions prevailing in the Netherlands.
Amsterdam summer
In general, the summer months in Amsterdam and the Netherlands are July, August, and September, particularly from June 21 to September 1. Dutch summers are warm and lovely, which is why it is the best time to visit Holland's capital. 
The average summer temperature in the Netherlands is 17 degrees Celsius. The best time to come is from mid-April to mid-October, while July and August are the peak months for visitors.Traditionally, July kicks off the beach season in the Netherlands, as water in the North Sea is about 19 degrees Celsius.
It gets warmer in August at +20 degrees. Throughout these summer months, however, remember that it would rain anytime. Also, light clothing will not help you much as the air is very cold at sunset. But overall, the weather is never severely cold or hot.
There is so much water in Amsterdam, with no mountain ranges. This means the humidity is relatively high throughout the year. Precipitation, such as rain, is common all year round. 
About 40% of the country is located below sea level, making Dutch people experience a moderate maritime (or oceanic) climate that results in mild winters and cool summers with just 6-7 hours of sun every day. Generally, summertime is perfect for tourism activities with many fun things to do.
Current Covid-19 restrictions in Amsterdam
Since the pandemic, Amsterdammers use clever signage that says, "Ik hou (afstand) van jou". This means "I love you" and "I keep my distance from you," reminding people to stay 1.5 meters apart.Most of Amsterdam's public venues are currently open to visitors, but it is advised that you take additional safety precautions into account.
Based on a piece of advice from the Dutch government, local tourists and international travelers can go on holiday in the Netherlands if coming from countries with similar or lower health risks.When in the country, travelers are expected to obey these essential rules:
  

Avoid busy places. 

 

Wear a face mask in public areas – shops, airports, hotels and public transport.

Keep a distance of 1.5 meters between you and other people.

  

Leave if you notice it is becoming difficult to maintain that much distance with people. You cannot gather in groups of more than four people from different households.

 

Travel by car, bike or on foot. Use public transport only for essential journeys.

Wash your hands often.

Don't shake hands with others.

Cough and sneeze into your elbow.

   

If you feel sick, stay inside your home or hotel.
Nightclubs and dance festivals are still currently restricted. To keep updated on coronavirus measures at museums, cinemas, restaurants, bars and other attractions in the capital city, check government.nl.
Also, before visiting any venue or event, always check their website for the latest news.
Finally, if you show symptoms of the virus, you need to remain inside your home or hotel room, and arrange to be tested for coronavirus by calling 0800-1202 for an appointment. ***If you test positive for Covid-19, you must self-isolate in your holiday accommodation for two weeks.
Have the Best Amsterdam Summer Experience Despite COVID-19 restrictions
1. Enjoy the canals of Amsterdam
When in Amsterdam, make sure to spend an ample amount of time by the city's waterways. Relax and sit by the canal, experience the canal on a boat, or grab a cup of coffee at the many cafés and restaurants along the canal.
Amsterdam's man-made waterways are a protected UNESCO Heritage Site. They are postcard perfect, and loveliest during summer. The city's grachten (in-city canals) is over 100 kilometers long, with 1,500 charming bridges and 1,550 monuments along the way.
Take a boat ride or kayak on the canal, especially after sundown when the bridges are lit up and the whole area becomes magical. When going on a guided boat tour, you will learn fascinating facts from the boatman who is eager to tell you more about the city. 
You will be taken to important landmarks – along the Gouden Bocht (Golden Curve), the well-known The Magere Brug or "skinny bridge," the bridge on the corner of Reguliersgracht and Herengracht, and the section of Herengracht between Leidsestraat and Vijzelstraat.Walking along the canal is another picturesque way to experience the grachten.
During this pandemic, walking and cycling are recommended activities because you will not stay in one place among a crowd of people. Stroll along the waterways, discover beautiful gardens, restaurants, art galleries, breweries, flower stalls, old monasteries, and historical homes. You will also see famous European clubs, but most are closed down due to the health crisis. 
2. Rent a bicycle and discover the city on two wheels
You can see the most famous landmarks in Amsterdam on a bicycle. Cycling is not just a hobby for the Dutch, but also a way of life. There are about 800,000 bicycles in the city, with excellent bike paths that will take you to almost everywhere in Amsterdam. 
Most Amsterdammers prefer bicycles over other forms of transportation. The good news is, as this is one of the most cycle-friendly places on the planet, Amsterdam wasn't overly affected by public transport restrictions, even at the peak of the pandemic.
Amsterdam is widely accepted as one of the bicycle-friendliest cities in the world. One of the coolest bike routes will take you to the famous Museumplein. Despite the ongoing restrictions, there isn't much sign of the virus here as it remains as vibrant as ever.
3. Visit the museums
Two of the best known and widely visited museums in the city are the Van Gogh Museum and Rijksmuseum (National Museum). The Van Gogh Museum holds the largest collection of the master himself, including paintings (over 200), letters and other artefacts. You can see here Van Gogh's two most popular paintings – "The Potato Eaters" and "Vase with Sunflowers".
On the other hand, Rijksmuseum is Holland's National Museum, with more than 8,000 important paintings and 35,000 books and manuscripts.
4. Take a breather at Vondelpark
Vondelpark is the largest and most popular park in the capital. Especially popular in summer, Vondelpark is well-loved for its flowery lawns, ponds, playgrounds, and pathways. It is simply one the hippest and most popular parks in Amsterdam.
The park remains open to travelers and visitors, but expect more surveillance and crowd control measures including one-way traffic, additional traffic hosts, and matrix signs.
Also, some streets remained closed to ensure safety and discourage overcrowding.Vondelpark is a 120-acre green space with lush gardens and fountains, making it a perfect place to relax without the usual crowds of people.
It is Amsterdam's equivalent to New York's Central Park, where families come to frolic about at several play areas. Come here to take a leisurely stroll, a fun bike ride just to read a book on the grass.Vondelpark's Openluchttheater (open-air theater) is a popular summer outdoor event. It remains running although with limited capacity and required seat reservations. 
The park's open-air theater will run some shows each weekend through September 26. Come here to catch live free performances from local artists, including afro-jazz band New Cool Collective and Brazilian funk group Zuco 103.
5. Pass by the city's most popular attraction
Another ultra-popular spot in the city in summer is the Anne Frank House. Located in Prinsengracht in the artsy Jordan District, this is the actual house where young Anne hid from the Nazis and wrote her world-famous diary.
It has been converted into a museum, and is now open to receive local and foreign visitors.The house is beautifully preserved to honor such a poignant moment in history.
It was closed during the height of the pandemic. Today, it is open to anyone who has been free from health complaints for at least 24 hours.
Also, visitors must observe the following rules: maintain a distance of 1.5 meters from people who are not in your group, always observe the hygiene measures, always follow the instructions of the museum staff, and pay using a bank card or credit card.
In September 2021, Amsterdammers expect most restrictions to ease up, if things go as planned. As more and more people are being vaccinated and with the fluctuating infection numbers, expect more summer season restaurants to begin allowing people to dine in. 
Most of Amsterdam's public venues are currently open, just in time for the summer months. Some foreign travelers may be asked to show a negative Covid-19 test result when travelling to the Netherlands or to self-quarantine for 10 days, especially when coming from countries and regions with high coronavirus infection rates. 
Vaccinated travelers from the US and UK are not required to quarantine upon arrival. It is also best to check Schiphol Airport's website for updates, flight schedules and additional rules.When traveling within the country, there are no restrictions, but people are advised to avoid busy places, and to travel as little as possible.
Also, foreign tourists are no longer obliged to reserve their accommodation before they travel to the Netherlands. The pandemic may not be completely over soon, but Amsterdam has opened its arms a little wider so that travelers and visitors could once again enjoy summer in this beautiful city.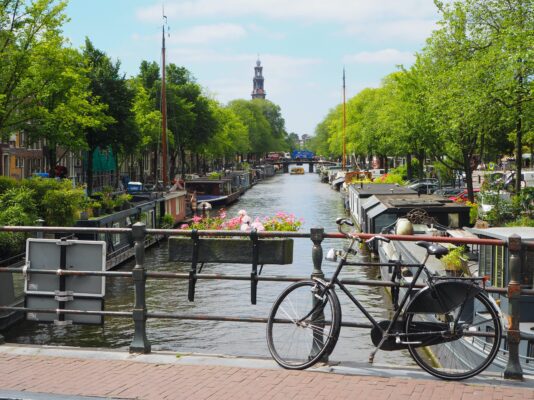 Amsterdam
In September 2021, Amsterdammers expect most restrictions to ease up, if things go as planned. [...]
READ MORE