If you're spending a day trip in Maastricht, hear us out! There are plenty of beautiful cities in the Netherlands, and one of them is Maastricht. Us, Dutch, has Maastricht on our list when we're looking for a quick weekend getaway. The picturesque streets, the beautiful museums, and the relaxed atmosphere are some of the few things that make the city a pleasant destination. 
That being said, here's a one-day to Maastricht guide for you!
Get Some Breakfast
One of the many things you shouldn't miss on a day trip in Maastricht is breakfast! There are many great sports where you can have breakfast in the city, and I'm going to list some of them below: 
Brandweerkantine

: What's interesting about this restaurant is that it's situated in an old fire station. Plus, the whole area is very worthy of the gram, so if you want to take some snaps, you're off to a great start here. 

De Bisschopsmolen

: Here's where you can have excellent spelt loaves and buns. You should also try out their muesli cakes and mini tarts!

SAP Bagels & Juice Bar

: If you're only up for healthy and delicious juices and you're on-the-go, I suggest you head here. Aside from their juices, they also have great bagels and pancakes for breakfast. 
Now that you're ready to start the day, it's time to see the first attraction in the city. 
See the St. Servaasbrug
The St. Servaasbrug is an arched stone bridge. You might think, "What? Why should I spend my first day in Maastricht on a bridge?"
Well, it's not just a bridge; it's the oldest bridge in the country. So, consider yourself privileged to be able to stand on a bridge that was built between 1280 and 1298. 
Explore the Vrijthof
Maastricht is a historical city, and since you're only spending a day here, I encourage you to explore the most historical parts of the city. One of them is the Vrijthof! It's not hard to miss because it's the central square of the city. The area is also lined with lively cafes and bars where you can stop by for coffee, or perhaps, some booze if you feel like drinking early in the day.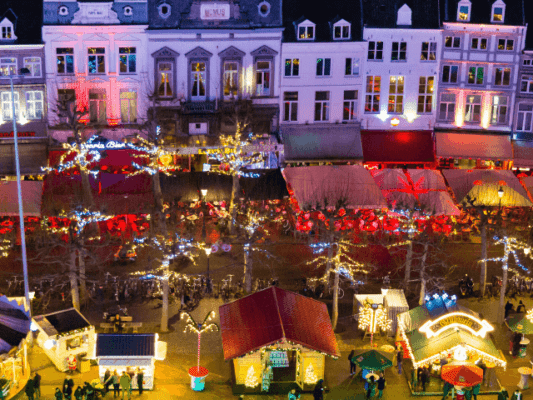 Opposite the square is the Sint Janskerk, which is one of the Gothic-style churches in the country. Its gothic-vaulted ceilings are a must. If you're up for it, climb up the bell tower and bask in the beautiful views of the city and the Maas river. 
If you don't need a break yet from your climb, I suggest you check out the Sint Servaas Basilica as well, which is a UNESCO-heritage site. Inside the church are popular treasures. Oh, and Sint Servaas is the patron saint of the city!
Time for Lunch
You probably got a bit tired from that walking or biking, therefore, it's time for lunch. Here are some of the best places where you can grab lunch in Maastricht: 
Beluga

: If you're feeling fancy, visit this two-Michelin star owned by famous Dutch chef Hans van Wolde. Order the surprise menu of six courses and if you're up for it, pair it with some good wine. 

Harry's Restaurant:

If you want to eat various specialties from all over the world, this is the restaurant for you. Their tasting menu has three or courses, and you can finish your meals off with delicious desserts. 

Pakhoes:

Do you want some seafood? Then, Pakhoes is the best place to be. This is a famous local dining spot, which is located in a former warehouse next to the Maas river. The food here is inspired by local French Belgian cuisine. 
Visit the Dominicanen Book Store
Whether you love books and photography, you need to visit the Dominicanen Book Store. It's an independent book shop that is located inside an old church. Here, you can find various books, and they also have a lace for music. 
Before it became a bookstore, the area has housed various establishments. Today, there is a beautiful coffee shop where you can stay while you read your books. 
Go to Helpoort
The Helpoort, which means "gate of hell" is the oldest city gate in the country that dates back to 1229. During the late spring and early autumn, there are volunteers in the area who can tell you a story about the city's history. 
Nearby, end your day at the city park. There's isn't really anything special about this, but it's worth a visit, especially if you want to spend some time in nature or hold a picnic or if you want to get your tan. 
Finish the Day at the Bonnefanten Museum
End your one day in Maastricht at the Bonnefanten Museum. It is one of the top museums in the country and it holds interesting contemporary exhibitions. There's also European art you can enjoy here and art from Limburg. Make sure you visit the dome as well because there is always an interesting installation there. 
Ready for your day trip in Maastricht? Check out our other travel guides here at Ask the Dutch Guy!
Check out the Maastricht travel guide here!