So you've decided to come and experience the summer in the Netherlands, along with 11 million other tourists who visit the country every year. Welcome to the Netherlands, the freest country in Europe and one of the finest. The country is all about tulips, windmills, cheeses, wooden clogs, and the arts. They come all year round, as the country is pretty and uniquely enchanting depending on the different seasons.
When arriving in summer, there are a few things you might want to know. Read about the best summer activities in the Netherlands that you could engage in. Have fun!
Summer begins on 1 June and ends on 1 September. About 40% of the Netherlands is located below sea level, with no mountain ranges, and this means there is a very high level of relative humidity throughout the whole year. 
People here experience what is called a moderate maritime (or oceanic) climate that brings mild winters and cool summers. Generally, summer is freezing with brief rainy periods and just 6-7 hours of sun every day. Precipitation, such as rain, is common throughout the year.
If you wish to enjoy warm summer days, you could head to the southern provinces. Generally, the east of Brabant and north of Limburg are the warmest in summer.
Beach season starts in July, and hitting the beach is one of the first summer activities you should plan for when visiting.
Hitting the City Beaches
Europeans love relaxing on the beach after a hectic day at work. This is why city beaches are a growing trend in Holland, as it is around the continent. The Netherlands have several urban beaches in all types and sizes. They are easy to reach, and so get ready for some warm sun, great bites and cold drinks, and lots of sand.
De Kaaij in Nijmegen, under the Waalbrug bridge, Lindenberghaven
Nijmegen is a popular and historic city near the German border. It used to be part of the old Roman Empire. Everybody here loves De Kaaij, which offers a great view of the Waal river. There are plenty to do on this beach. You can go to a theatre, listen to street music, or join workshops and yoga classes on the beach.
Cultural Terrace De Kaaij, a popular hang-out area, connects the river, the Ooijpolder, the historic harbour and the bustling centre of Nijmegen, making it the perfect place to meet, relax and enjoy the summer. Musicians, painters and artists come here regularly to light up the local cultural scene.
Strand Oog in Al in Utrecht, Kanaalweg 199
This is a city island with plenty of sand and where you can relax on a beach chair or just a towel while looking at the water.
Oog in Al and the districts of Kanaleneiland, Transwijk, and Halve Maan are located between the Merwede Canal and the Amsterdam-Rhine Canal. Bear in mind that you are not allowed to swim in the Amsterdam-Rhine Canal, because vessels pass by continuously. 
DOT in Groningen, Vrydemalaan
This is an attractive city beach where people are allowed to swim. The shoreline is dotted with attractive buildings, bars, terraces, a 3D Dome Cinema (the only one of its kind in Holland) and DOT Arcadia, a fun dance place with DJs and live music.
Groningen is a vibrant university city. Young people and students from around the world bring the fun to the beach, as well as in lovely cafés, restaurants and canals.
Stadsstrand aan de Nieuwe Maas in Vlaardingen, KW-haven, Waterleidingstraat
You will have a great time at this city beach that is known for its mix of music, art and sports. It is located just outside the busy city of Rotterdam. Imagine relaxing on the beachhead while watching cruise ships sail by on the Meuse river and looking at the old lighthouse.
Belcrum Beach in Breda, Veilingkade 12-15
 Come here to get a slice of the live music and lively beach activities. There is a yoga class on the beach every Saturday morning. The beach pavilion's kitchen is known to use vegetables and herbs grown by the nearby Belcrum Farm.
Breda is a historic, medieval city in the west of North Brabant province. It is a vibrant social city that was named the best inner city in 2009.
Mud Walking on a Seabed
Several other city beaches are scattered around the country, but if you are looking for a different kind of wet summer adventure, try mud walking for a change.
Walking in mud, or wadlopen in Dutch, is apparently a thing in the Netherlands, particularly in the Wadden Islands, the most popular summer destination in the country.
You can try mud walking in the Wadden Sea, a unique nature reserve. It is actually fun, but can be arduous as you have to fight your way across deep layers of mud. Mud walking is also called "horizontal alpinism", and it is definitely not for the fainthearted.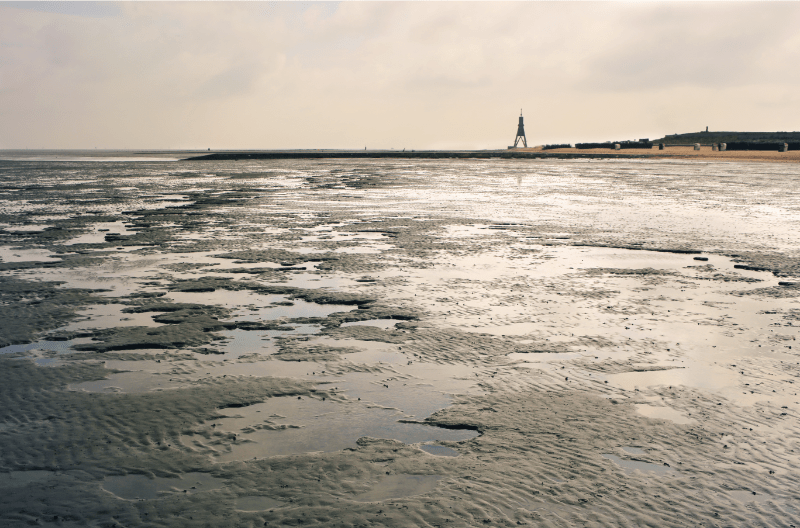 During low tide, you can actually walk on the shallows and cross the bottom of the sea. It is only here where you can say you've walked on sandbanks, trenches and gullies, and on the seabed.
Wrestle through miles of mire and thigh-deep brown mud to reach one of the islands in the Wadden Sea. The shallow Wadden Sea has about fifty islands, five of which you can reach and have fun in.
You will be accompanied by experienced guides to take you close to the birds, fish and plants as you cross the seabed. You might also stumble upon a group of seals resting or a jellyfish draped on the sand.
This is something truly unique. Imagine crossing the salt marshes, which are quite muddy, onto the bottom of the Wadden Sea, and finally to an island. The entire walk can take you around from 3 to 5 hours to complete.
Try mud walking only if you are fit, healthy and with a spirit of adventure. If this is not you, you can always enjoy summer the way most Dutch do – go two-wheeling.
Two-wheeling Around
Be like a Dutchman and explore the country on a bicycle. There is no better way, especially in summer when the weather is perfect for cycling around.
In Amsterdam, more than 800,000 bicycles criss-cross the streets. There are actually more bikes than people, which means you will not run out of breezy bicycle routes. The entire country is basically flat, which makes cycling easy.
Biking is not just a hit in Amsterdam but also in several other villages and cities. The Netherlands is, in the first place, not exclusively Amsterdam. The country has much more to offer away from the capital city. This is another thing you can enjoy in summer – discover cities and villages you have not been to before.
Discovering New Destinations
The compact city of Amersfoort
You can begin your quick journey of discovery in nearby Amersfoort. It may be a little-known city, but it is equally as enchanting and inviting as the rest. Amersfoort is known for its centuries-old streets, historic buildings, unique monuments, lovely canals, shopping centres, terraces, cafés and restaurants in the chic city centre. Coming here in summer is a great idea.
Historic Zwolle city
You can go further to Zwolle, a pretty city with medieval ruins, just a little over an hour from Amsterdam. Cobblestone-covered streets and gothic medieval architecture will welcome you. Zwolle is proud to be the home of Sassenport, a 600-year-old medieval gate of the city's castle-like entrance. It is a UNESCO Heritage Monument that has stood the test of time.
The quaint, car-less village of Giethoorn
Finally, discover a lovely village farther north that is a popular summer destination for the Dutch. It is called Giethoorn, a humble but truly unique little village where time had stood still. It is said that people of Holland make it a point to visit Giethoorn at least once in their lifetime.
All that you wish to do in a Dutch summer is possible in this fairy-tale-like medieval town. You can kayak on the canal, set up a picnic by the lake, go camping, cycle around and to the De Weerribben-Wieden nature park, hike, sail, and sit on a terrace with a cold beer while watching the sun go down. What you get in this village is peace and quiet, and an unadulterated experience with nature.
Try camping in Giethoorn in summer. There are several campsites to choose from, beginning with Vakantiepark Giethoorn. This is a popular site located in the heart of the village and surrounded by water. Your camp is near a network of hiking and cycling paths, and plenty of nature.
If you wish to go for an easy swim after setting up camp, build a Hoeve Montigny pitch. This camping site is located along a river and stream. 
Another option is Camping d'Hof, which is near Giethoorn's lovely canals, bridges, lakes, farms, and beautiful gardens. It is not far from Lake Bovenwiede and Weerribben-Wieden National Park, which means there are plenty of opportunities for you to fish, hike, cycle, swim or sail, and definitely to relax and wind down.  
The Netherlands is one of the most inviting destinations in this part of the world, regardless of the season. Autumn is lovely as the trees turn orange, spring is refreshing when the pink blossoms return, winter is magical as lakes and canals turn to ice, but summer is just perfect. Come visit the Netherlands in summer and enjoy some of the best things when the weather is at its most inviting time. After your trip to the Netherlands, you can also check Paris in the summertime!