Featured City
The Metropolis of the North
Considered the city university in the North Netherlands, Groningen is a go-to spot for students and tourists who wish to make the best out of their youth and enthusiasm. However, Groningen isn't all partying and lollygagging. It's also a perfect place to embrace peace, silence, culture and history.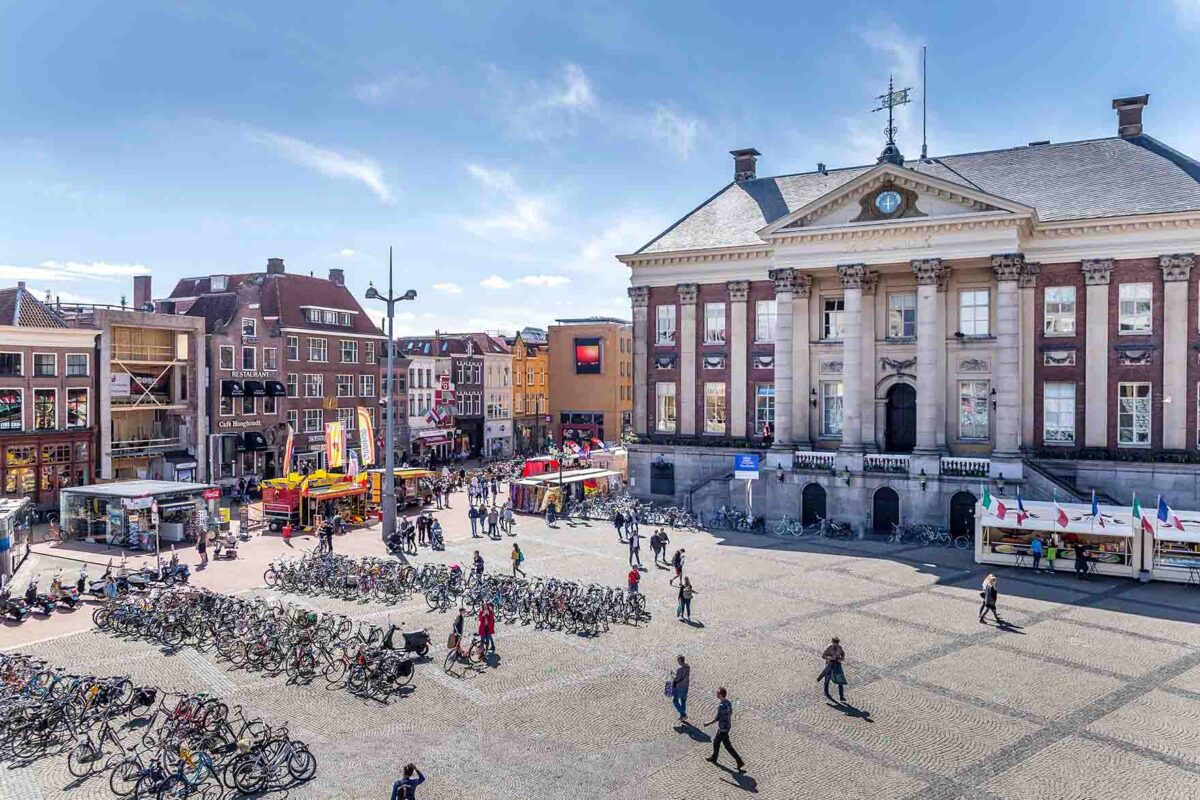 What is Groningen known for?
Groningen is known for its bike-friendly pathways and old squares, which lead tourists to the city's historic cores. The city offers picturesque and historical monuments like Martin's Church (Martinikerk) and Martini Tower. Groningen is also popular for its world-class museums, one of which is the Groninger Museum.
Thousands of tourists also flock to Groningen because of its local stalls and shops in Vismarkt. If you have a thing for fresh fish, fruits and veggies, pastries and cheese, Vismarkt will welcome you with various options.
Places to visit in Groningen
Groningen is such a dynamic city. There's no place in Groningen that lacks energy and adventure. The inexplicable vibe in cafes, museums, and festivals blend well with the soothing ambience of Groningen's canals and hidden almshouse courtyards and gardens. If these thoughts don't excite you, you might as well visit these places:
Martin's Church

(Martinikerk) and Martini Tower

Groninger museum

Almshouse courtyards

Groningen's Old Town District 

 

Fish Market (Vismarkt)

International Wooden Shoe Museum Eelde
Where to stay in Groningen
While a day of gallivanting around Groningen can be rewarding, it could also be a bit exhausting. That's why it's good to have a place to stay and unwind after hours of sightseeing. Just like other cities in the Netherlands, Groningen offers the best hotels and hostels.  Whether you want a luxurious suite or a straightforward but cosy hotel setup, you can find such a place in the city.
Things to do in Groningen
Visiting Groningen for the first time can be a big surprise. It's because being in the city makes you want to try every bit of what it has to offer. Even if you're just staying in Groningen for one day, you might need the best guide. But if you have more than a day to explore Groningen, here are the things you can do:
Stroll through the shopping streets

Visit a museum
Explore the vast coastal area and centuries of architecture

Put the pedal to the metal and come across artificial dwelling hills, churches, and former fortresses

Try a boat trip to Hoornsemeer, Zuidlaardermeer or Paterswoldsemeer.
Experience Dutch cuisine by dining in one of the best restaurants and cafes.
The 10 best luxury hotels in Groningen
For those who expect the best. Luxury hotels for the discerning traveller.
Learn more here at Ask the Dutch Guy
Travel smart by learning the ins and outs of visiting the Netherlands. You can prepare ahead of time and make the most out of your visit to the country by simply checking out our weekly blog post here at Ask the Dutch Guy! From basic travel tips to essential Holland facts, we got them all for you!