Groningen is the most important Dutch city in the north of the Netherlands, mostly known for its universities and dynamic city life for students. Groningen may be small geographically but quite large for its contribution to tourism and the expat community in the country. More and more British expats, international and university students are making their way here and discovering ways to thrive in the Netherlands. Living in Groningen is less expensive than in The Hague, more laid back in Rotterdam, and less touristy than in Amsterdam.
The Groningen quality of life continues to attract both the Dutch and Europeans and people from other parts of the globe. Here are a few practical pieces of information that could help you adjust and better appreciate living in Groningen.
Why should I choose to come here?
Groningen is not complicated at all. Getting adjusted here and calling it your new home wouldn't take long. The size of the city makes it easy to get around. Get on your bike or simply walk around to see the restaurants, shops, hospitals, churches, universities and other establishments that you should be familiar with.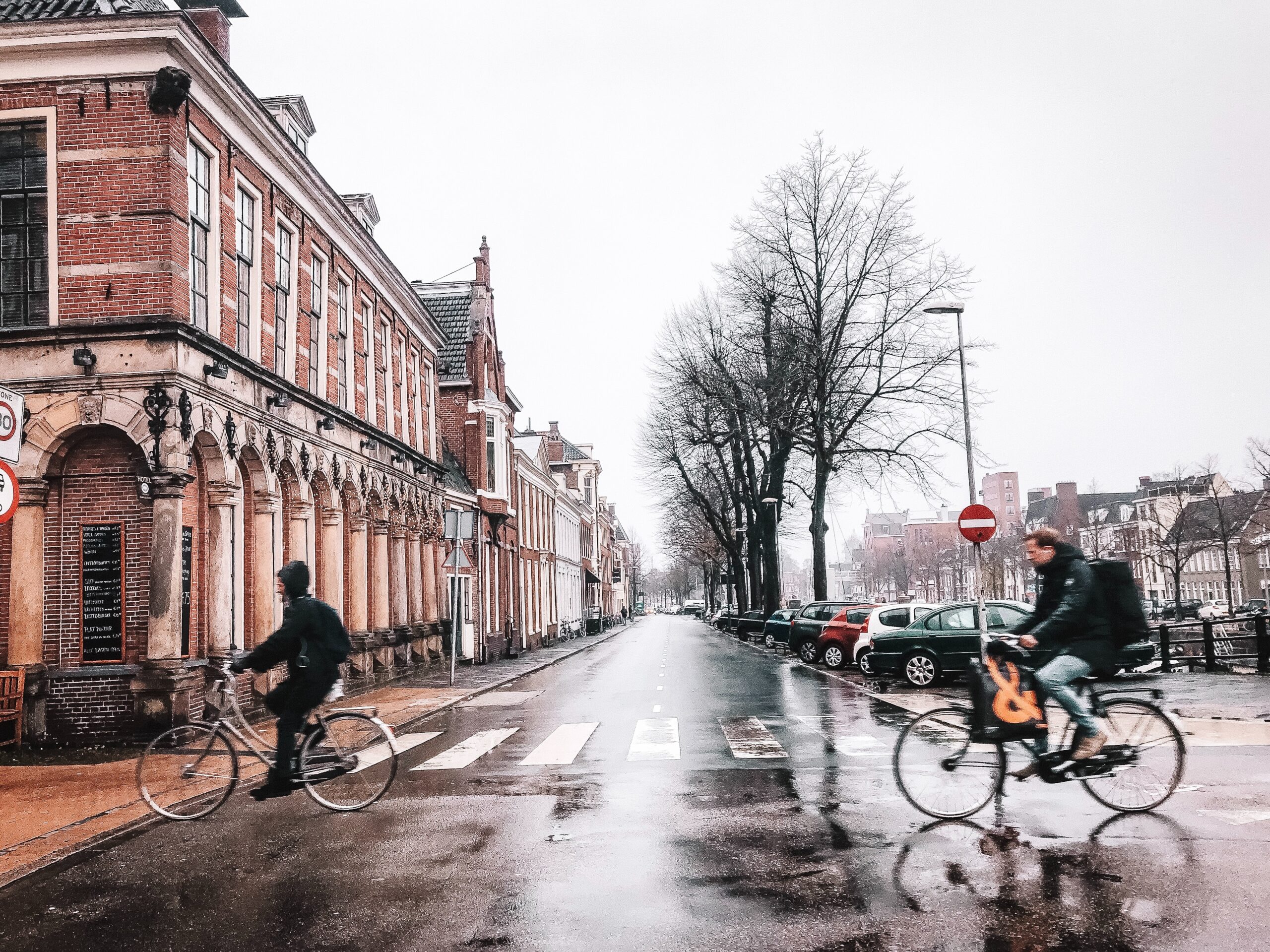 By the way, you should understand that in the Netherlands, the best way to move around is on two wheels. In Groningen particularly, biking is the norm, so get used to it quickly to blend in and to get a good feel of the lovely city centre. If you are living outside the city, buses regularly come around to serve commuters.  
When arriving for the first time, you will appreciate fairly quickly that Groningen is a good representative of the country. Here you will see plenty of bicycles lining the streets, there are canals surrounding the city centre and the streets exude a historic medieval atmosphere. Such scenes will become part of your daily life after moving to Groningen.
The city centre is very pedestrian and completely closed off to cars. In fact, several other cities and villages in Holland are car-less, a concept that is very different from most British cities. As a whole, you would love living in Groningen as it is one of the safest cities in Europe with the happiest inhabitants. 
Is it easy for students to make it in the city?
Living in Groningen as a student. The city understands its role as a hub for international students, so an increasing number of courses are now available in English, especially postgraduate ones. Groningen is home to several universities, colleges, and learning institutions, including Hanze University of Applied Sciences, University College Groningen, and Stenden University of Applied Sciences.
The most important university is University Groningen (Rikjsuniversiteit Groningen or RUG) founded in 1614. Thanks to RUG, the city has earned its reputation as the leading Dutch student city, as well as for its raucous, student-centred nightlife. Student life here is similar or at least a very close equivalent to the British student lifestyle. Internationals would not find it too difficult adjusting to the Groningen style of student living.
As the main learning institution here, RUG is reputable worldwide, offering BA courses in English from American Literature to Applied Mathematics. Hanze University of Applied Sciences, on the other hand, offers more practical courses such as physiotherapy. These two major universities are nestled in Zernike's huge campus in the northern part of the city.
University fees here, and the cost of living as a whole, are considerably cheaper than in the UK and elsewhere in Europe, including Amsterdam. 
What is student life like?
Groningen is kind to students, as there are several pubs near the RUG university campus. The most popular ones are Pintelier (a Belgium café), The Dog's Bollocks (an English-style pub), Mr. Mofongo's (with a cocktail bar on their second floor) and The ConcertHuis.
The bars are allowed to open 24-hours a day, believe it or not. With so many students looking for ways to de-stress or meet new friends, the bars and pubs can't afford to close their doors.
The city also has a great music scene with an abundance of gigs and festivals to look forward to. You can check out regular shows and seasonal events at Vera Groningen, a legendary venue that hosts club nights every weekend, Kelderbar, which is known for hosting concerts, and the Oosterpoort.
Meanwhile, the two most famous festivals are the annual Eurosonic, Europe's largest conference festival for upcoming musicians, and Noorderzon, a free 10-day festival that takes place in the Noorderplantsoen park in August.
Students who wish to know more about the university scene in the city may visit these sites: GroningenLife, University of Groningen and Hanze University of Applied Sciences. To put it simply, there are many associations, activities, festivals and many other fun things to do. The city truly offers something for everyone.
How much is the cost of living in Groningen?
Students who wish to come to study are advised to know the cost of living in Groningen. Below are averages that can give you an idea what to expect when moving here:
Accommodation (per month): 300 euros

Shared room accommodation outside the city: 250 euros

Shared room accommodation in the city: 350 euros

1 bedroom apartment outside the city: 420 euros

1 bedroom apartment in the city: 470 euros
Universities provide housing and accommodation opportunities to students. The University of Groningen, for instance, has reserved accommodation in a student housing, in coordination with SSH, a non-profit housing corporation that specialises in accommodation for students and PhDs. They offer short stay contracts in a room with all necessary furniture and appliances for 5 months (exchange students, 1 semester) or 10 or 12 months (2 semesters).
Food (per month): 226 euros

Average fitness subscription (per month): 23 euros

Beer at a bar: 4 euros

Transportation: 55 euros

Communication and utilities: 75 euros

Clothing: 65 euros

Sports and leisure: 65 euros
 Here's a glimpse of the cost of living in Groningen in general. Costs for non-students/families according to Numbeo:
Basic (Electricity, Heating, Cooling, Water, Garbage) apartment (per month): 185 euros

Apartment (1 bedroom) in the city: 790 euros,

(1 bedroom) outside the city: 600 euros,

(3 bedrooms) in the city: 1,262 euros,

 (3 bedrooms) outside the city: 975 euros

Internet (60 Mbps or more, cable/ADSL) (monthly): 49 euros

Cinema (international Release) (1 seat): 12.50 euros

Family of four estimated (per month) (without rent): 3,085 euros

A single person estimated (per month) (without rent): 875 euros 

Meal at an inexpensive restaurant: 14.50 euros

Meal for 2 at a mid-range restaurant: 60 euros

Local beer: 4 euros

Imported beer: 3.50 euros

Bottle of wine (mid-range): 6 euros

Cappuccino regular: 3 euros

Soda: 2.30 euros

Water (1 litre): 2.10 euros

Milk (1 litre): 1.00 euros

Eggs (a dozen): 1.82 euros

Local cheese (1 kg): 11.50 euros

Average monthly net salary (after tax) 2,250 euros
How is the work opportunity here?
Working in Groningen. When moving to Groningen and thinking about the possibility of finding work, you should know that the province has the largest gas field in Europe, which was why Shell corporation used to attract most of the expats to the area. Any work related to gas and energy should be fine here, but also in the areas of education, tech, start-up and hospitality.
The universities are the main employers of internationals, while students who would like to earn some money could land a job in restaurants, bars, hotels and retail shops.
Internationals won't have a difficult time looking for a job since language is not an issue. The Netherlands has consistently been voted as the top country for English-speaking fluency outside of English-speaking countries. Groningers love to show off their skills in English (but not in German).
Are there practical tips I should know?
Here are helpful tips for anyone (students, professionals, expats) who has plans moving to Groningen:
Get a bike
As already mentioned earlier, it is a must to get used to moving around on two wheels. This is true all over the Netherlands, but more so here.
Learn some Dutch
Although this isn't as urgent as getting a bike since the Dutch speak good English, you will be appreciated for trying to speak their language. Also, when in a foreign country, it is always fun, interesting and respectful to speak even the easiest local terms and phrases.
Let loose
Groningen is a hip, social and vibrant place, although it is also very historic and cultural at the same time. Be open to learn new things and meet new people.
Groningen is waiting for you. If you thrive in a city that is alive all night with internationals and youthful students, then Groningen is the perfect place to be. There are a lot of students living in the city, which means parties and events are happening every time here and there. Groningen has a population of about 230,000 people, 25% of which are students. Because of this, Groningen is clearly the youngest and most vibrant city in the Netherlands, with a remarkably big and diverse cultural scene and a very vibrant nightlife.