If you have a weekend to spend in Maastricht and don't know where to start, don't worry; I have all the information you need. I created a 2-day itinerary to ensure you have a fantastic time in Maastricht. You might think that two days isn't enough, well it is! You can do and see many things in two days that will help you make the most out of your trip. 
Let's begin! 
Day One
It's time to get moving on your very first day because you have a lot of things to do and see today. For sure, you will have a great time and a good nightcap at the end of the day. 
See Fort St. Pieter
The Fort St. Pieter is one of the top attractions in Maastricht. It's a 300-year-old fortress that was built in the 18th century to keep the French out. The fortress is accessible via a guided tour where you will be shown historic areas, such as the cannon gallery, a secret water well, and underground tunnels. From the fortress, you can also enjoy a beautiful view of the city. 
Visit & Take Photos at Helpoort
Helpoort, also known as Hell's Gate was part of an inner defense wall of Maastricht. It was built in 1380 and out of the other gate buildings, this is the only one that survived, which makes it extremely special. 
It's a marvelous piece of structure, and it's hard to resist taking photos for the 'gram. You can go inside the structure to stroll through its museum that contains plans and layouts that will tell you how the gate was built. 
See the Watermill
The De Bisschopsmolen is the city's historical windmill that was built in the 7th century. What makes it so special besides its age is that it has undergone several restorations and it remains operational. How cool is that, huh? That's why you shouldn't miss this when you're here in Maastricht. It's not every day you will find a watermill that is still operational after centuries. 
It's Lunch!
Where to have lunch in Maastricht? Like other cities in the Netherlands, there are many places to eat at here. On your first day, why not give Brandweerkantine a try? It is located in a former fire brigade building. 
Another excellent place to have lunch in the city is Tapijn. The area was once the dining hall of the Tapijn barracks; therefore, you will see old military uniforms and old radios that are representative of the building's history. 
Right in the heart of the city is Pieke Potloed that offers regional specialties made from old recipes using local ingredients. Aside from that, you'll feel right home when you enter the restaurant because of its cozy interior. If the weather is nice, you can enjoy lunch on their beautiful terrace. 
Go On an Underground Cave Tour
Book a guided tour and explore the underground caves of the city. Navigate through 20,000 corridors underground with minimal lights. Here, you will learn the history of the caves and how the people lived there. Be prepared to walk some parts of the cave with no lights at all! 
End Your Day at the Basilica of Saint Servatius & Sint-Janskerk
The Basilica of Saint Servatius is a beautiful is a sight to behold, which is why you should definitely end your first day here. Another great thing about this is that it's located in the the best areas of the city, where you can find a place to eat or drink at nearby. 
Just right next to the Basilica of Saint Servatius is the Sint-Janskerk, a Protestant church. It's impossible to miss, thanks to its strikingly red tower that you can climb as well to see the beautiful views of the city. 
End the Day With a Nightcap
End your day at In de Karkol, which was named as the best cafe in the country during the annual competition in 2016 held by a popular trade magazine, Misset Horeca. They have the best lager that is perfectly drawn. 
Experience an old-fashioned brown pub in the city at the De Dikke Dragonder. It is located on the Vrijthof Square. 
Day 2
Expect a more relaxed second day in the city with a stroll in the park to kickstart your day and finally, ending the day laden with souvenirs to take home with you. 
Enjoy Nature
The Netherlands has many nature parks you can explore. On your second day here, take a moment to enjoy nature at the Waldeckpark. With coffee in hand, stroll peacefully and simply appreciate the beauty that surrounds you. You will be surprised to see a variety of sights here. 
For example, you can see interesting sculptures around the river that cuts through the park. You can even find an art installation about various extinct or mistreated animals. 
Visit the Boekhandel Dominicanen
The Boekhandel Dominicanen is one of the most beautiful places in the city. It might seem like a church from the outside, but it's actually one of the prettiest bookstores you will ever see in the whole world. But no, you're not wrong to think of it as a church as it really was built as a church in the 13th century. It was in 2006 when it was turned into a bookstore. 
Inside, you will find new and used books that are available in various languages. If you like music, there's a music department here, and you can also enjoy a cup of coffee at the cafe. Events and exhibitions are usually held here, too. So, before you head to the Boekhandel Dominicanen, check out the upcoming events or exhibitions so you can time your visit well. 
Shop at the Markt Before You Leave
If you're here on Wednesday or Friday, do your shopping before you head home at the Maastricht Market at the central square with the same name. You can find over 200 stalls here that sells almost anything. It's a great place to shop for souvenirs and take home others cool stuff with you.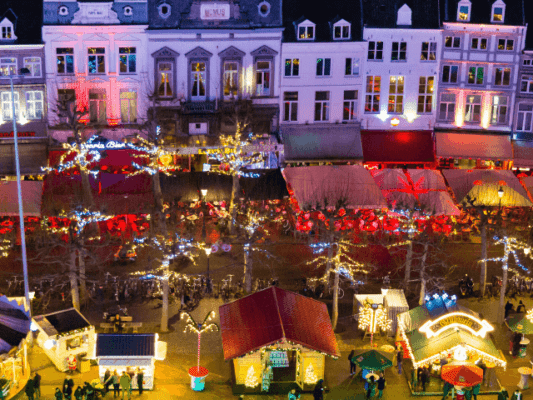 In case the Markt is closed, don't worry; there are many places to shop in in the city. Most of the tourist shops are near Vrijthof Square, where you can find plenty of fashion stores. Wolfstraat Street, on the other hand, is perfect if you're looking to shop for premium designer items. 
If you're on a budget, you can shop at the Wyck district, while if you're interested in shopping for art, check out the district of Jerkerkwartier. Or you can also head to the Latin Quarter where every shop here looks like an art gallery. Here, you can find a wide selection of unique artworks, designer clothes and shoes, and many more. 
I hope this weekend Maastricht guide will help you have a fun and memorable experience in this Dutch City. You can also check this weekend packing list to help you on your trip.
Do you want to know more about the cities and villages in the Netherlands? Browse our topics here at Ask the Dutch Guy!
Only have one day to spare in Maastricht? Check out this article here. 
Here you can also read our Maastricht travel guide.