Long weekends are the best time to escape to a quick but much deserved holiday. Sometimes the best getaways are the spontaneous ones. You discover a couple of free days on your calendar and decide on a whim to hit the road or book a flight. Time to make some calls and start packing. Not sure what to pack for a weekend trip or how? Take a look at the ultimate long weekend packing list for any type of traveler.
When packing, decide if you'll be checking in a bag or bringing just a carry-on. Depending on the length of your weekend trip, chances are you can fit everything on a carry-on backpack or duffle bag. The trick is to make all your stuff fit, which is why you need to make a packing list.
Checking in a bag means you wouldn't need to carry all your stuff all the time. This makes traveling more comfortable and easy. However, with a checked bag, you could feel a little anxious during long layovers as the likelihood of your bag going missing becomes more likely.
On the other hand, traveling with only a carry-on limits the number of items you can bring, although you could feel much safer and more comfortable traveling and moving around without tons of stuff to think about along the way.
Also, traveling with just a carry-on means you have everything you need close at hand. After figuring out how long you'll be gone and what weekend bag to use, time to curate the items you need and decide what to pack for a weekend trip.
To help you with this, take a look at this ultimate long weekend packing list to guide you.
What you can pack in your carry-on:
Cash

 

Passport / visa

ID (travel documents)

Itinerary

Hotel and flight details

Maps / directions

Sunglasses

Travel blanket

Travel pillow or neck pillow

Book 

Snacks

Gum

Camera

Change of clothes

Extra pair of socks

Valuables

In-flight medications

Eyes mask

Noise-cancelling headphones or earplugs

Tissues

Lip balm

Disinfecting wipes

Hand sanitizer

Insurance cards

Face masks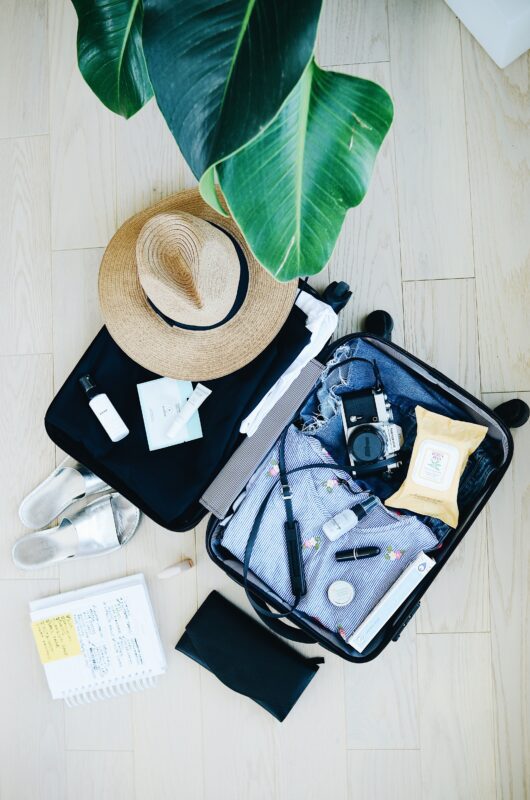 Clothes to pack:
T-shirts

Dress shirts

Dresses

Casual shirts

Pants

 

Jeans

Shorts

Skirts
Underwear

Socks

Bras

Sweaters

Sweatshirts

Suits

Swimsuits

Coats
Cover-ups

Hats

Gloves

Scarves

 

Leisure shoes

Hiking boots

Sneakers

 

Flip-flops
Snow boots

 

Dress shoes

Sandals belts

Ties

Jewelry

 

Purses

Collapsible totes

Laundry kit

Umbrella
Notice that your destination has a lot to do when deciding what to bring. When visiting Amsterdam any time of the year, it could rain any day, so bringing an umbrella makes sense. Although winter in Holland is not as cold as in several parts of Europe, don't forget your coat, gloves, and scarves when visiting during this season. 
Toiletries to pack (personal item list)
Toothbrush

Toothpaste

Dental floss

Soap

 

Deodorant

Shampoo

 

Conditioner

Styling tools

Hairbrush
Facial cleanser

Sunscreen

Moisturizer

Face lotion

Hand sanitizer

Shaving supply

Contact solution

Makeup

Makeup remover
Period products

Nail file

Nail clipper

Tweezers

Bandages

First-Aid ointment

Insect repellant

 

Rain relievers

Vitamins
In the "new normal," most destinations will require you to always bring/wear a face mask, hand sanitizer, and proof of vaccination.
Most of the items here you can buy in your destination unless you're traveling to a remote area without supermarkets or groceries. Otherwise, just bring a toiletries shopping list and do some quick shopping upon arrival.
Miscellaneous items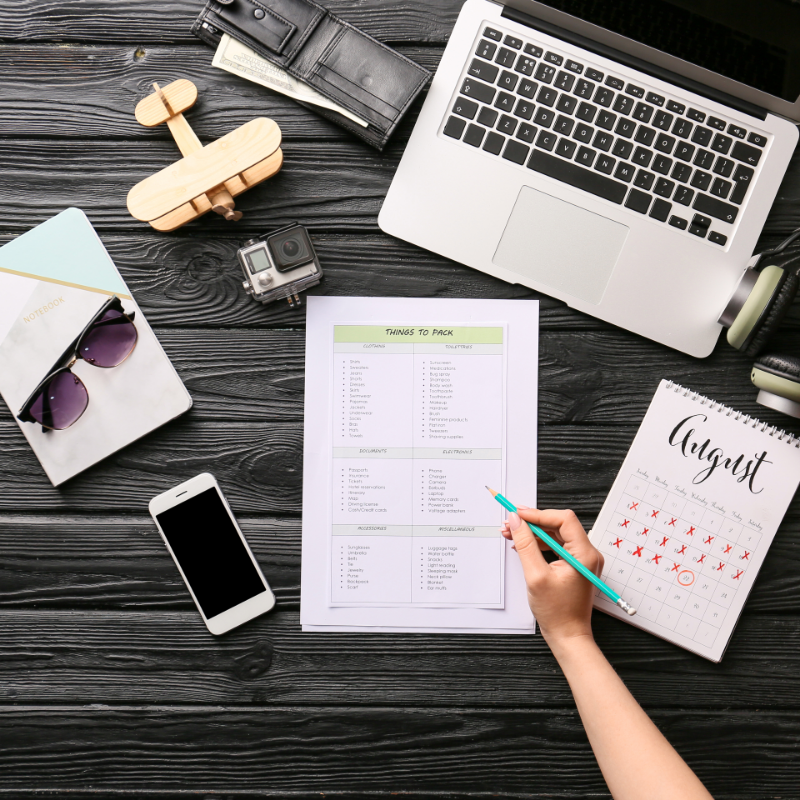 Cellphone

 

Laptop / tablet

 

Chargers

Plug adapter

Film

Memory card

Copy of passport

List of medications

Emergency contacts

Banking contacts

Puzzles / games
Other Tips to Pack Efficiently For Your Weekend Getaway
This list practically covers everything you might need on your long weekend vacation. The idea is to travel light. If still unsure what to pack, below are easy-to-follow tips when packing your clothes for the weekend.
It's tempting to pack all your fashion favorites to make sure you look your best. There's nothing wrong with looking your best, but be smart about what to bring. Don't let your clothes decide for you. Strategize what to pack by keeping a balance between being comfy and being fashionable.
Consider bringing clothes you can reuse
Weekend travelers usually recycle clothes. This means using and re-using clothes more than once when traveling. As much as you can, avoid bringing white garments because they can get dirty very quickly.
Before your trip, shop for outdoor convertible pants that could turn into shorts. You can wear them 2-3 times without looking soiled or smelling icky. You could end up packing just one convertible pair for the weekend while wearing another one during the trip.
Wash Your Clothes
Backpackers and seasoned travelers love looking rugged on the road. They don't bring a lot when traveling. They usually would buy inexpensive local clothes and wash what they've worn that day or the day before. This is a good idea for any type of traveler – both for backpackers and newbies.
Instead of carrying so many clothes with you, bring some clothes you can easily wash and dry, especially when you're only going away for the weekend.
When staying in a hotel, ask for their laundry service if you must. You can also check out the laundromat outside.
Keep a good fashion sense
To hit the perfect balance between packing light and being fashionable, bring clothes, pants, and jackets that can be color-coordinated with everything else. Go for multiple combinations you can wear an item more than once. Be creative about what to wear and how to look good during your trip. Blue jeans usually go with everything else, as well as a black shirt.
Bring a Pair of Shoes ONLY
Shoes are not easy to pack. They are quite bulky with a strange shape – neither square nor round. The most practical thing to do when traveling on the weekend is to wear your shoes as you go and just pack an extra pair or maybe a flip-flop. Bringing more than two pairs for a weekend getaway is too much. Wear a pair of sneakers when traveling, and that you can use for trekking, shopping, or sightseeing.
Traveling on business or for a special event is a different story. Don't pack or fold, but carry your suit or fancy dress if heading for a work event or wedding over the weekend.
Only pack what you are wearing during the event. Don't forget to match your accessories and purse. 
Roll your clothes, not fold
Instead of folding your clothes, roll them up to make little tubes. This allows you to save space and keep your clothes crease-free. For short and quick weekend trips, doing this hack can allow you to carry just one bag – a backpack, duffle bag, or medium suitcase, aside from your carry-on purse.
Charge your phone through a TV
This opens up space in your carry-on that a bulky electric charger could otherwise occupy. Most modern TVs have a USB port where you can plug your phone to charge. You can also charge them using your laptop. 
Email yourself a scan of your passport
You can never be too sure. Nothing is worse than losing your passport in a foreign country. Your weekend holiday could become the longest weekend of your life if you lose your passport and visa when traveling. Emailing yourself a copy is easier and safer than always carrying around printouts.
Only unpack what you need
To save on packing and repacking time, take out only what you'll need at each stop you need to make.
The Art of Packing
When traveling for the first-time, packing can be quite a stressful chore. Preparing for a quick weekend trip can be tricky if you're not used to traveling. Here are five helpful packing hacks to keep in mind.
Traveling for the first time? Going on a quick weekend vacation on a whim? For any type of traveler, the trick when going somewhere is to make an ultimate packing list. You can never go wrong if you know exactly what you need to bring and what to leave behind. Make that list and start packing for an unforgettable weekend.
Get to know more travel tips here at Ask the Dutch Guy! Browse our topics today.