Located on the border of three different landscapes, the village of Oldemarkt is a quiet and tranquil area that is worth a visit when you're in the Netherlands. On its west is the Weerriben-Wieden National Park, on the north is the border river Linde, while Paasloo is on the south of the village.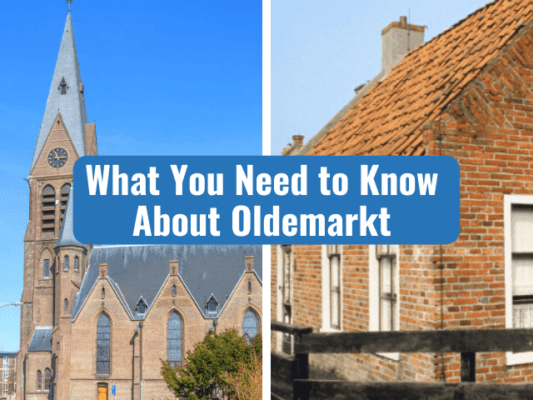 If you think about it, the village was at a crossroads of roads, and this unusual location has led turned it into a village as many craftsmen and traders pass through it to get to various places. Today, there are three churches and a few historic buildings in the village you shouldn't miss. 
There's no shortage of nature surroundings here as it lies on the edge of a popular national park in this part of the country. Furthermore, it is also the swamp area De Rottige Meente. 
Check out these historical places if you want to learn about the village: 
Willibrorduskerk 
A neo-gothic Roman Catholic church that has beautiful stained glass windows where you can see a group of statues "Anna in Threes." You can also find here the foundation stone with the inscription "Laus Deo."
Read more about it here. 
Veerhuis't Butent 8
Originally a warehouse that turned into a cafe, and now a private house, which was built in 1821 by the mayor of Oldemarkt at that time. 
Read more about it here. 
NH Church
When Oldemarkt was granted permission to separate from the main church in Steenwijk, the NH Church was built. You will find some old tombstones in the church as well. 
Read more about it here. 
What Else Can You See In The Village? 
Don't miss out on the water buffalo farm where you can see a lot of water buffalos! You can book a buffalo tour and see the farm. 
There are also several museums in the village, such as the Radio Museum where you can see the collection of Jannes Punter. Check out the 50 restored musical instruments at the Harmonium museum. You also should check out exhibitions at the IJsselham Historical Association. 
There are also a few walking and bike routes here you can enjoy. Looking for an action-filled day? The Klimbos Adventurous Paasloo is definitely something you should try!
If you're in the village on a hot summer day, you can hop in the pool at the outdoor swimming pool 't Tolhekke. 
Don't worry when it comes to your accommodation, there are several hotels in Oldemarkt as well as bed and breakfasts and vacation homes, and a lot of restaurants!
Ready to visit Oldemarkt? It's only ten minutes away from Giethoorn!