If you're in Giethoorn during the summertime, then swimming is one of the things that you can do in the village. There are places you can swim in the village, and in nearby areas as well. 
So, if you're looking to take a dip in the village, here are the best places where you can do just that.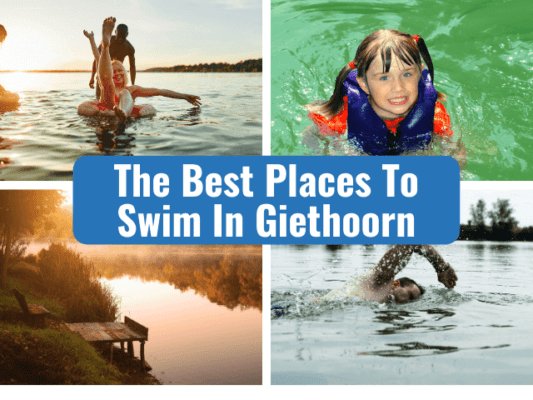 Het Bovenwijde
You can get here by boat. Right in the middle of the lake is an island with jetties and shallower water. It's a great spot for a picnic and to take photos for your social media. Make sure to bring water shoes because there could be something sharp in the water. 
Read more about it here. 
Beulakerwijde
The best way to get here is by bike as you pass the line of the lake. Swim in the lake or get a tan. When you're done, you can cross the street to get t the tiny villages, such as Ronduite, Sint-Jansklooster, and Vollenhove where you can eat and do some shopping. Find your way back to Giethoorn via your bike, or if you want to do more, you can bike to Dwarsgracht. 
Read more about it here. 
Het Molengat
This is a smaller lake that can be reached by boat. There's a road, but it's too narrow, which is why you need to ride a boat to get here. 
Read more about the lake here. 
Belterwijde
You can get here by bike, car or boat. This is a great place to swim if you are with kids because of the shallow water. On the other side, you will find a water ski club! 
Read more about it here. 
Indoor & Outdoor Pools
If you want to swim in a swimming pool in Giethoorn and surrounding, you can go to a pool in Tolhekke in Paasloo, De Waterwyck in Steenwijk or Bad Hesselingen in Meppel. 
Things to remember when swimming in Giethoorn: 
Wear swimming shoes!

Don't hang at the back of the boat. 

You can swim when you rent a boat! 
Do you have any questions? Leave a comment below!