You have every reason to be excited about going on your first camping trip in the Netherlands. Spending a night under canvas is unlike any other experience. You should try it at least once in your lifetime and feel that freedom of sleeping outdoors. Once you've tried it, you'd yearn for your second, third and many more succeeding camping trips.
Camping is not only fun, stimulating, and an opportunity to move away from the city. It also allows you to live a longer, healthier life, according to experts.
However, to be quite frank, you don't need to invest in a whole collection of gear or learn esoteric survival skills to go camping. Staying outdoors can be very natural, spontaneous, and fun if you planned it well. Humans have always craved the outdoors, so, flow with this natural desire to be one with nature. 
Here are some tips on how to prepare for your first camping trip in the Netherlands. 
Mind your tent
Needless to say, your tent is an essential gear and so the first thing to do is to buy one. The rule of thumb amongst seasoned campers is to buy a tent for two people and their belongings. Always go double if you want any space. This means to buy a two-person tent just for yourself, a four-person tent when going with another person, and so on.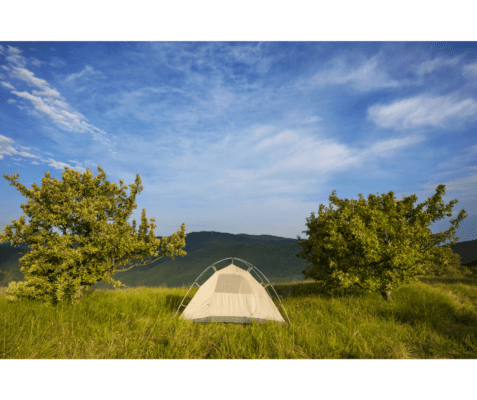 These days, there are so many types of tent to choose from – canvas or polyester? Poles or pop up? Single skin or fly sheet? And so on. Your choice depends on what sort of camping trip you're planning and with how many people. Since this is your first ever camping trip in the Netherlands, it is helpful to ask for advice from friends who have done it before or visit one of the large outdoor retail shops or even a camping show, where you can see tents standing and in actual use.
Check your tent before you travel, and make sure you have practiced pitching it. This is a great idea because putting it as practice gives you the chance to check that guy ropes, tent pegs, and poles are all there and working together properly. Also, doing it in private first gives you the chance to make mistakes without anyone watching.
Even a pop-up tent needs practice, maybe not so much on setting it up, but more on how to repack it. It could take you an hour or two to repack a pop-up tent if you're not sure how to do it.
Pitching perfect
When it's time to pitch for real, consider the lay of the land, the weather, the sun's position and proximity to facilities. Since you're doing this for the first time, choose a flat ground area. Pitching on a slight slope can be tricky. You definitely don't want to be rolling down the hill all night.
Expert campers will tell you not to pitch under the tree. The shade could be tempting, but you wouldn't enjoy waking up to a tent coated in sticky droplets of sap. Packing a sap-covered tent is a nightmare.
Determine your destination
You most probably have decided to go camping because you already have a beautiful destination in mind. Good for you. On the other hand, if you haven't decided where to go, there are campsites pretty much everywhere in the Netherlands, as well as in the UK, France, Belgium, and all over Europe.
There are 146 accredited natural campsites in the Netherlands. Below are just ten exciting destinations you can choose from.
It is only 15 minutes by bicycle from downtown Amsterdam, with a tram passing every 5 minutes.  This camping site has facilities for each family member to enjoy, including a petting zoo for children.
In between the Kinselmeer (Kinsel Lake) and the Amsterdam IJmeer (IJ Lake), this area is known for water sports, bird watching and fishing. It is easy to cycle to nearby lakes from the camping site and classic Dutch villages like Marken and Volendam.
Located along the waters of the Veerse Bos in Zeeland, this is a lovely spot in nature and that is very close to the water. Parking your car next to the tent is not permitted.
Klein Frankrijk in Noord Brabant
This place is situated beside a lake, making it perfect for swimming. It is a popular spot for weekend camping, plus the administrators are very friendly.
Distelheide in Gelderland (on the way to the German border)
The spot is lovely for a night by the fire. This particular region is peaceful and quite and known for the diversity of landscape fields and open nature.
The forest is located on a sand ridge between Maas and the German border. Camping spots are located on the hills and in a cosy corner by the trees and bushes. This place is also popular for biking.
West Terschelling in Friesland on the island of Terschelling.
This is a small campsite with great sunny open fields and a short distance from the harbour. There are several bicycle paths in this area.
Vakantiepark Giethoorn in Giethoorn
Located within Weerribben-Wieden National Park, this campsite is family-friendly, as it comes with a children's playground, restaurants, and cafés. It is one of the most popular spots to go camping in the heart of the enchanting village of Giethoorn. Camping d'Hof in Giethoorn gives you plenty of opportunities to fish, hike, cycle, swim or sail, and definitely to relax and wind down.
Hoeve Montigny in Giethoorn
Beautifully nestled along a river and stream. Setting up camp here will allow you to go for a swim, hike, or sail anytime. There are options to get shaded camping pitches or those without shade.
When camping in any of these sites, keep in mind that the Netherlands is known for its friendliness towards bicycles. Pack your bike, park your motorhome on a designated pitch, and explore the area on your two wheels.
Every campsite is different, and it really depends on what you are going for. In choosing your campsite, think about what's most important to you. Do you love the sea view? In need of fancy facilities? Do you want to be alone or with a crowd of other outdoor lovers? Seasoned campers love going to destinations that promote the local area and protect the environment.
Time to cook
Cooking is a fun, important part when camping. You need to eat, needless to say. When cooking on a camping stove, make sure you've planned ahead and taken plenty of camping gas. Set up your stove outside and off the ground.
When cooking on a campfire, make sure to set the fire properly before you start to cook on it. It is best to bring alone pre-cooked or semi-prepared food, especially when cooking on a campfire.
Always plan your meal in advance. Being outdoors doesn't mean you can't eat delicious meals or you'd have to settle on just noodles or packets.
It also helps to bring along food that doesn't need to be cooked: banana bread, bananas, raisins, sandwiches, vegetables and fruits, bagged salad mixes, muesli bars, chocolates, and so on.
What to bring
One of the first questions asked by first-time campers is this: "What should I take on my trip?"
Camping is a very popular activity in the Netherlands and there are several online groups and websites dedicated to helping newbies. To make sure you have everything you need before you go, look at one of many checklists that are available free online. Also, you can ask a friend or family who's done it before.
You can begin by taking a look at this list of camping essentials:
     

Wet weather gear

     

Toothbrush and toothpaste

     

Face wipes

     

Ear plugs to block the sound of nature, which is surprisingly noisy

     

Charging brick – you need your phone in case of emergencies

     

A stove – a small one is great for that morning brew and for boiling your water for drinking later. 

     

Extra socks

     

A proper pillow

     

Slippers

     

A packet of tissues
Going on a camping trip for the first time in the Netherlands can be scary and exciting at the same time. But for sure, you will never regret the experience. Camping allows you to spend time in the sun, meditate, relax, be one with nature, and get in touch and connect with other people.
Holland is famous amongst beginning and expert campers. The country is ranked seventh amongst the cheapest camping countries in Europe. Two adults with one child pay an average of 40.48 euros for an overnight stay on a campsite, including the pitch and other costs. That's why setting up a camping trip in the Netherlands, especially for first-time travelers wouldn't be such a hassle.
Wild camping and pole camping are not allowed in the Netherlands. Camping hot spots are in coastal and tourist areas, which means these places are stricter.