We did our best to list the top 10 things to do in Giethoorn, the Netherlands. You might not know it, but Giethoorn is more than its beautiful wooden footbridges, Instagrammable gardens, and thatched farmhouses.
It is also known as the Itailian Venice of the North! You can find Giethoorn in the Weerribben Wieden National Park. And yes, this National Park with places like Kalenberg, Blokzijl and Giethoorn is one of the most visited places in the Netherlands.
If you're planning to visit Giethoorn soon, this list might come in handy!
Cruise Along the Canals
When visiting Giethoorn you definitely should explore the village through its canals. There are only a couple of streets open by car and further you must walk of grab a boat.
You have plenty of options which type of boat you can rent. If you are feeling confident enough you can rent a boat or sloop by yourself. If you not feeling confident of don't have enough time to explore Giethoorn you can hop into a guided tour. Here you learn interesting things about the history of the village and take around one hour.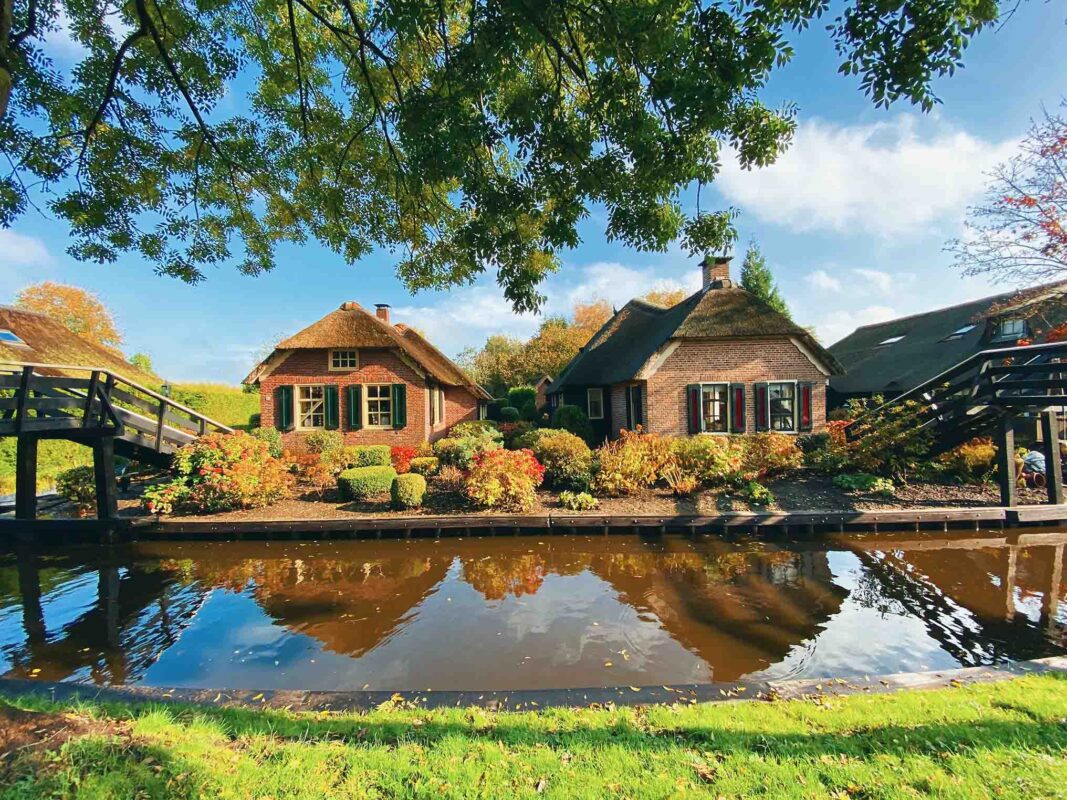 Row Yourself Through the Canals
As said earlier: If you want to navigate a boat all by yourselves, please go ahead and do it. It is not a difficult as it looks. Most part of the canals are straight you so don't have to use the steering wheel at all! In Giethoorn there are many boat companies where you can rent a boat with a big variety of options where you can choose from.
You have the possibility to rent a canoe or a kayak. If you like the old tradition, you can also hire a punt. But to be honest; the most rented type of boat is called a fluisterboot. This is an electric motorboat which have 4, 6,8,10 or 12 seats available.
RENT A whisper BOAT 
Are you looking for a place to rent a whisper boat in Giethoorn. Discover the best boats and prices here!.
The great thing of renting a boat instead of take a guided tour is that you have all the time by yourself. If you want to stop at a certain place for a lunch of diner this is possible. You can do it at your own pace, and you are your own boss.
Ride a Bike
Did you know that the Dutch people are a big fan of bikes? A normal family has around four bikes in its garage. a bicycle is the ideal means of transport for short distances. With that fact: why don't you rent a bike to explore Giethoorn?
Because you can't explore Giethoorn by car. So, you have to look for other options for transportation. With a bike you can easily 'drive' around 15 kilometres per hour. Further you can explore the hidden gems which are a little bit outside of the village which is fabulous.
There are a couple of cycling routers if you want to follow directions but in the end, it doesn't matter which direction you are going because it is all good. Just relax and enjoy the beautiful scenery.
Head to The Museum
If you love history, you definitely have to visit the Museum Giethoorn 't Olde Maat Uus. This museum will show you the history of the village and give a good explanation how your life will be when living in that period of time. Further you can see a typical Dutch farmhouse, a boathouse as well a fisherman's house.
Because the farmhouses are owned by private people you can't visit them; therefore, this museum gives you are good idea what's inside.
You will also find costumes here, pieces of furniture antique tools, and many more. It takes around one or 1,5 hours to finish the museum.
Visit the National Park
Giethoorn is part of National Park 'The Weerribben-Wieden'. This park is easily accessible through the village. Weerribben Wieden is over 100 square kilometres and divided in two areas. Weerribben in the northern part and Wieden in the southern part.
The special thing of this park is that is has beautiful creations of nature. All through a lot of people are visiting this national park you still have plenty of untouched places where you are the only one at that certain time. How nice is it that you can hear the birds and barking of the deers and you can sit down and relax.
Dine In
If you have enough time, you definitely need to dine at one the restaurants situated by the canals. If you are on the right spot you have a full view of the canals while you are eating a typical Dutch pancake or enjoying your afternoon high tea.
See A Rare Shell
Another great thing to do in Giethoorn is visiting the Gloria Maris Museum in the village. At least if you like shells, whatnot, and corals. In this museum you will catch a glimpse of a rarest shells in the world, which is called 'the Gloria Maris'.
You won't see this shell at not so much places, but it is very uncommon to see one. That makes it special. Next to this you will find a lot of other shells in this beautiful collection.
See Their Finest Collections of Minerals and Fossils
A good combination with the Gloria Maris is to head over to the 'De Oude Aarde' museum. This is a museum that have a wide selection of fossils and minerals. It is a very nice place also to go with children because there is a lot to do and to see.
Cross Over the Bridges
Fun Fact: Did you know Giethoorn has over 177 bridges? Because there is a lot of water you must cross it from time to time. Therefore, the people and government build the bridges. Crosse a bridge is fun to do with the family and will give you very nice pictures for social media and jealous faces for the people at home.
Visit the Binnenpad
While walking through Giethoorn you will walking over 'the binnenpad' this road may only be visited by feet or bike. But in the summer, it is only possible to do this by feet because of the tourists. At the binnenpad you can see the very nice and iconic thatched houses with their beautiful gardens. This place will give you the idea that you are in a fairytale book.
The canal system next to the binnenpad is stunning and because you can't reach it by car it is truly an experience.
In the end Giethoorn is one the places in The Netherlands which you need to visit. Al through it isn't big there a lot of things what you can do. Other places nearby Giethoorn are Kalenberg, Oldemarkt , Sint-JansKlooster and Blokzijl which are all great places to visit for half or full day.
Our best tip is to book your boat in advance. This because a lot of tourists are coming every day to Giethoorn and it is pity when you want to cruise through the canals with a boat but everything has been gone.
So, here's our list of the top 10 Things to Do in Giethoorn and we hope that you appreciate this article. If you have any questions, please don't hesitate to contact us. This can through email or via social media.